Nearly 400 stu­dents, teach­ers, par­ents, com­mu­ni­ty mem­bers, admin­is­tra­tors, and invit­ed guests attend­ed Superintendent Dr. John Kopicki's inau­gur­al "Celebration of Our Schools" event.
Held at CB South High School, the event kicked off with a show­case of instruc­tioal tech­nol­o­gy and stu­dent art in the South audi­to­ri­um lob­by. More than 183 indi­vid­ual works of stu­dent art were dis­played and orga­nized by dis­trict art teach­ers, while more than 100 stu­dents and teach­ers show­cased and demon­strat­ed excit­ing class­room tech­nol­o­gy in "booths" around the perime­ter of the room.
Hundreds walked among the dis­plays, tak­ing pho­tos, tap­ping iPads, and talk­ing with teach­ers and students.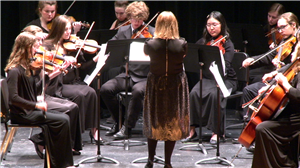 Following the show­case, Superintendent Dr. John Kopicki made a pre­sen­ta­tion that fea­tured data and updates on progress in strate­gic goals across all oper­a­tional and instruc­tion­al areas — called "Pillars of Excellence." These updates also includ­ed details on the dis­tric­t's vision for the future, "Like a moun­tain climber, we need to reach for the next lev­el, and not back down from the next peak – we must chal­lenge our­selves every day. Together, we must have the sin­gu­lar focus to do the best we pos­si­bly can for each of our students."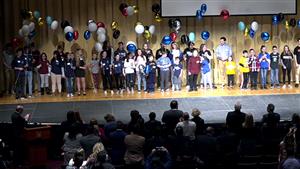 Each of the dis­tric­t's high schools sent an ensem­ble to per­form for the gath­ered crowd. The CB East Select Choir, CB West Chamber Strings, and CB South Jazz Band gave amaz­ing performances!
Dozens of stu­dent vol­un­teers — includ­ing 20 rep­re­sent­ing the CB Cares Educational Foundation, helped to direct atten­dees, dis­trib­ute pro­grams, and direct spe­cial guests includ­ing state and local legislators.
As a sur­prise finale, 100 CBSD stu­dents of all ages took the stage with bal­loons in each of the three high schools' col­ors as "True Colors" played. The final video fea­tured CBSD par­ents, stu­dents, teach­ers, and staff shar­ing why they are proud to be part of Central Bucks.
Read more on the CBSD web­site here.