On June 6th, the Central Bucks School District held its Retirement and Recognition Reception. The dis­trict hon­ored 76 retirees and thanked them for their many years of service.
The dis­trict also hon­ored 23 teach­ers and staff with Apple Awards for valu­able, inno­v­a­tive con­tri­bu­tions above and beyond their job descrip­tion. Read more about our Apple Award win­ners below.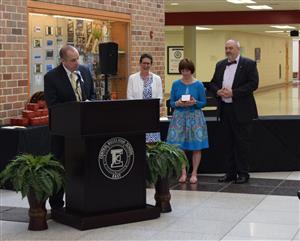 Sharon Reiner
Administrative Services Center
Commitment and Dedication
Sharon has worked in Central Bucks for 25 years and has spent the last 13 as the Administrative Assistant to the Superintendent. She has served the last five Superintendents in Central Bucks and has served the school board sec­re­tary. She is a con­sum­mate pro­fes­sion­al who has made Central Bucks a won­der­ful place for stu­dents, staff, and par­ents. Her ded­i­ca­tion and hard work have made a last­ing impact.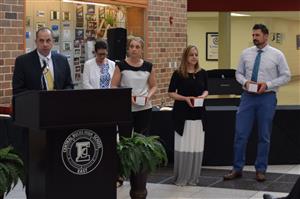 Christine Dollarton, Carrie Vice and Matthew Oberecker
Cold Spring Elementary
Young Innovator's Day
Christine, Carrie, and Matt worked to cre­ate the first Young Innovator's Day that took place at Cold Spring on April 5th which was made pos­si­ble through an Innovative Learning grant from CB Cares Educational Foundation. They engaged stu­dents in robot­ics, cod­ing, rock­et cre­ation, and oth­er intrigu­ing, inno­v­a­tive activ­i­ties. Community mem­bers, par­ents, and the Franklin Institute assist­ed in orga­niz­ing this great day of learning.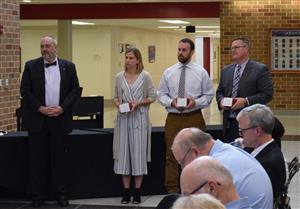 Steve Siliani, Kirsten Siliani, and Luke Hadfield
CB East
Unified Sports Program
Steve, Kirsten, and Luke start­ed the Unified Sports pro­gram, which allows stu­dents with intel­lec­tu­al dis­abil­i­ties, oth­er dis­abil­i­ties, and no dis­abil­i­ties to com­pete on a track and field team togeth­er. This Special Olympics spon­sored pro­gram gave 13 CB East stu­dents the oppor­tu­ni­ty to com­pete against neigh­bor­ing schools, and CB East also host­ed its first-ever home meet. Students com­pet­ed in the 100-meter dash, the 400-meter dash, the 800-meter run, the 4x100-meter relay, the shot put, and mini-javelin.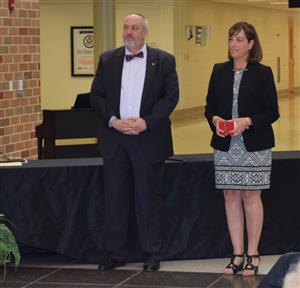 Laurel Podraza
Manager of Information Technology Service
Revolutionary Ideas in Technology
Laurel Podraza has been inte­gral in imple­ment­ing sig­nif­i­cant changes to improve the Technology and Innovation depart­ment. She rede­fined the roles of the District Helpdesk to bet­ter sup­port Central Bucks tech­nol­o­gy users. She also over­saw the new web­site design, the new logo design and the tech­ni­cal sup­port for the 1 to 1 lap­top initiative.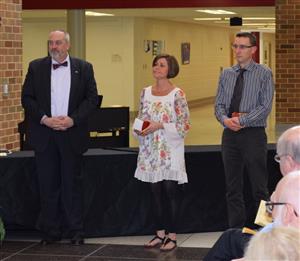 Jennifer Moyer and Matthew Alderfer
Groveland Elementary
AAA Safety Patrol
Jennifer and Matthew installed the first ever AAA Safety Patrol at Groveland. The Safety Patrol, which has stu­dents post­ed in bus­es, the bus plat­form, car rid­er loop and hall­ways, assists with mak­ing sure arrival and dis­missal are safe and effi­cient. Groveland is one of only ten schools nation­wide to be a part of this AAA pro­gram and received a $500 grant from AAA.
Amy Logue and Brian Yannarella
Linden Elementary
Linden News Studio
Amy and Brian cre­at­ed the first news stu­dio for Linden. The stu­dio was designed to inform the school com­mu­ni­ty of impor­tant events using student-created news­casts. The stu­dents learned an incred­i­ble amount and were able to tour the CBS‑3 news stu­dio in Philadelphia to help them pre­pare for their newscasts.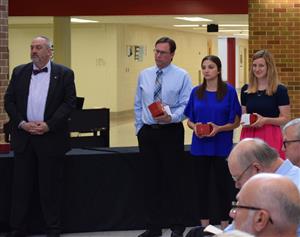 Francis Chapman, Cassie Cocca, Alison Binckley and Amy Brown
Mill Creek Elementary
CREEKERS' Code
This group worked to cre­ate CREEKERS' Code and a way to build a cohe­sive envi­ron­ment in Mill Creek. CREEKERS' Code stands for Cooperation, Respect, Excellence, Effort, Kindness, Empathy, Responsibility, and Respect. Students received month­ly whole school lessons basked on CREEKERS' Code that were engag­ing and moti­va­tion­al for students.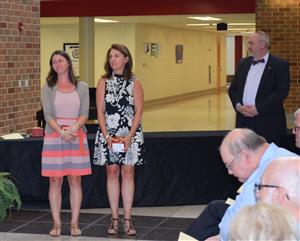 Karen Yuknus and Stephanie Byrne
Titus Elementary
Read Across Titus
Karen and Stephanie cre­at­ed Read Across Titus to cel­e­brate read­ing at Titus Elementary. Based on Dr. Seuss' Read Across America, com­mu­ni­ty mem­bers came to read to stu­dents. There were whole school read­ings through the school's in-house TV sta­tion and there was a book swap so every stu­dent got to go home with 2–3 new books. CB South seniors also par­tic­i­pat­ed in the through the CB South Forum Buddy Project, and over 50 seniors joined their bud­dy class­es as vol­un­teers for the day.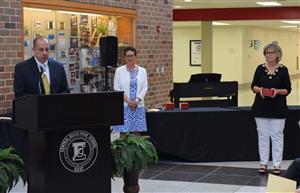 Susan Furfari
Tohickon Middle School
Iron Chef
Susan start­ed an Iron Chef pro­gram at Tohickon. Based on the pop­u­lar tele­vi­sion show "Iron Chef America," Tohickon stu­dents worked with vol­un­teer staff mem­bers to cre­ate culi­nary cre­ations in one hour. The recipes were brought in by stu­dents, and the staff mem­bers judges eval­u­at­ed a win­ner based on taste and appearance.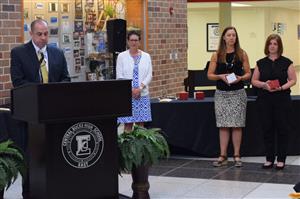 Amy Calderoni and Stephanie Ripley
Unami Middle School
Math Family Fun Night
Amy and Stephanie coor­di­nat­ed Math Family Fun Night at Unami. The event was designed for ele­men­tary stu­dents from across the dis­trict, with Unami stu­dents run­ning games for the younger stu­dents to play. Games includ­ing math bin­go, fish­ing for math, math hoops, Kahoot! Math and more. Twelve raf­fle bas­kets with math-related items and games were com­piled from com­mu­ni­ty busi­ness­es. Math Family Fun Night was made pos­si­ble through an Innovative Learning grant from CB Cares Educational Foundation.
Mark Hayden
CB West
STEM Research Club
Mark is the advis­er to CB West's STEM research club, which includes stu­dents from oth­er schools through­out the dis­trict. Students in the club engage in research projects in STEM fields, and many stu­dents have entered local, coun­ty region­al, state and inter­na­tion­al lev­el com­pe­ti­tions. Some stu­dents have received patents on their projects, and since its incep­tion, the club mem­bers have earned over $1 mil­lion in scholarships.
William Wade
Facilities and Energy Management Operations Department
Exemplary Leadership
William has done a won­der­ful job lead­ing the FEMO depart­ment in the main­te­nance of grounds. He has improved the safe­ty and playa­bil­i­ty in dis­trict ath­let­ic fields and has done so with a pos­i­tive, "can do" atti­tude. He will also work on any task, no mat­ter how big or small. His atti­tude has been con­ta­gious to oth­er mem­bers of the FEMO depart­ment, and he raised the lev­el of expec­ta­tions for ath­let­ic field qual­i­ty through­out the district.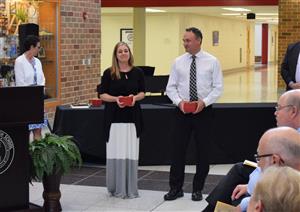 Carrie Vice and Jason Fillette
Warwick Elementary
PEN Project Based Learning Initiative
Carrie and Jason imple­ment­ed PEN Project Based Learning into Central Bucks class­rooms. Project Based Learning is an inno­v­a­tive instruc­tion­al for­mat where stu­dents select many aspects of their assign­ment and are moti­vat­ed by real-world prob­lems. Carrie and Jason helped col­leagues teach the student-lead Invention Machine PBL Unit which empow­ered stu­dents and pre­pared them for the district-wide Invention Convention.